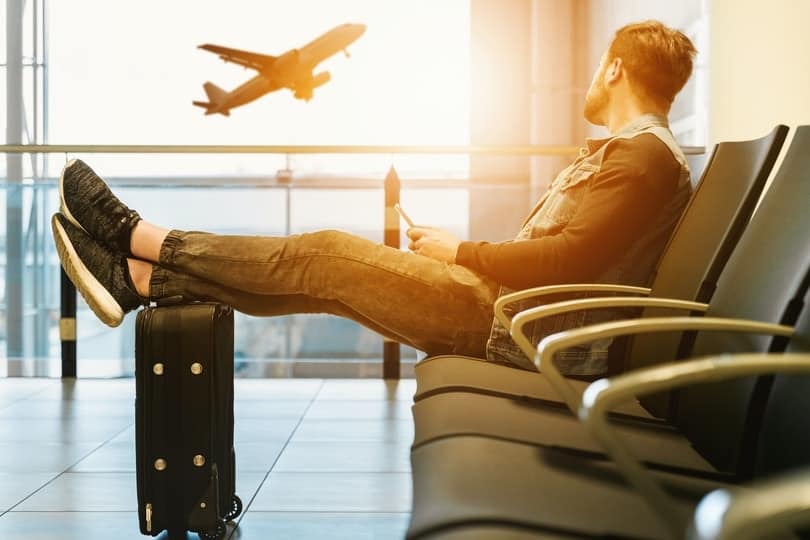 First thing you need to know is if you get a case with locks make sure it is labeled as "TSA approved." These bow cases have locks which federal Transportation Security Administration officials can open on their own.
TSA Reps have special keys. If you use combination locks or non-TSA locks you can cause huge flight delays. By not using an approved lock be prepared for TSA officials to call your name over the airport public address system to go open your case so they can inspect it. Definitely count on them inspecting a bow case.
There are hard and soft cases available for airline travel. Be aware if you go for a soft case then it's a good idea to pack clothing beneath and on top of your bow for added padding protection.
Believe me I know how rough baggage handlers can be on luggage and other items like guitars, bows, etc. I worked for United Airlines for sixteen years an a mechanic on the jets. Got to know lots of pilots, stewardesses, and baggage handlers.
When it's contract time the baggage people can get angry. They want more money. Guess who they take their frustrations out on. Yes, the passengers by throwing their bags. This isn't to scare you from flying with your bow. It's just a heads up on the guaranteed way to protect it from damage.
Soft cases often have an "airline cover" made for them, which insures your bow case doesn't accidentally open but is not a good option. If at all possible use a hard case like an SKB.
If a case is suitable for airline travel, the manufacturer will say so in the description of the product. If they don't mention airline travel, then that's not the case you will want to own.
The plastic cases that are not rated for airline travel usually are made of a material that's fine for transporting your bow in your vehicle, but may or may not handle the distress and wear of airline travel.
Especially if the baggage handler is having a bad day or going through contract negotiations with the airline company.
Protect what is inside your bow case
Think about how you'd want to protect what's inside your bow case if you were to drop it from 5 feet, kick it, pile stuff on top of it, etc.
We're not saying airline baggage handlers will do any of these things to your case, but we've retrieved ours at our final destination looking pretty beat up.
Make sure your bow is secured within the case. Look for a case that has tie-downs to hold the bow in place, so it can't bounce around during travel. Or, pack items around it to hold it secure.
Protect your sight. Get a separate case for it, or find a way to secure it inside some clothing or other padding. Some cases have special compartments just for bow sights.
How to secure your arrows & broadheads
Arrows are pretty sturdy, but if you're worried about yours getting damaged, you can always use an arrow tube to keep them secure.
You might be able to fit this tube inside your bow case, or you might have to put it in another piece of checked baggage. Also, many bow cases have built-in arrow holders.
If you're going hunting, be sure to secure your broadheads. Do not put them uncovered in your bow case – and that includes traveling with them attached to your arrows. Secure them in a separate container of some kind so they can't do any damage.
Bows in cases are not normally considered to be any different than other pieces of checked airline baggage. They usually don't require any special declarations like guns do. Bows can only be taken on board airplanes as checked baggage – you can't treat them as carry-on items. No bows in the passenger part of the airplane.
We're not aware of any airline restrictions regarding archery equipment, but always check with the airline you are traveling with ahead of time to see if they have any special rules you need to comply with.
Be prepared to tell the check in agent what's in the bow case
When you're at the airport terminal, be prepared for anything. You might be asked what's in the bow case. You might be asked to open the case for inspection. Airline employees unfamiliar with archery equipment can sometimes be overly cautious when they encounter see a bow case. It's not like a guitar which they may be very familiar with the shape.
For U.S. flyers traveling outside the country, it's a good idea to pre-register your bow with U.S. Customs and Border Protection. You can use this form – Form 4457 – and take your bow to a Customs office before you leave the country.
There you can have an officer stamp your form. That form will be good for as long as you own that bow. You only have to do this registration once per bow. The form certifies you did not buy the equipment outside the U.S., and so you cannot be charged any duty fees when you return to the United States.
If you like you can take your sight and release in carry-on baggage so you can be sure they're safe. Hand-held releases can look like weapons however. Some hinge releases look almost exactly like a set of brass knuckles.
It's OK to carry them with you, but be prepared to answer questions about what they are. Many airport workers may never have used bows before so don't hassle them if they aren't familiar with your equipment. What's common sense to you may be completely alien to them. To avoid any hassles, just stow them in your bow case or other checked baggage.
The best selection for a bow case we've found is an SKB. It has all the specifications needed which will avoid unwanted hassle. It also protects your bow extremely well, especially if you have one you paid a $1,000+ for.
Recent Posts
link to Kayak Bowfishing
Bowfishing from a kayak is fun and exciting, but isn't as stable of a bowfishing platform as if you were in a regular boat. Kayak bowfishing doesn't require you to be standing, yet depending on...
link to How To Sight In A Compound Bow
If you are looking for a quick way for adjusting bow sight pins on a bow, then here is how. Many bow hunting sights use a multi-pin sight design, which has three main adjustments. The adjustment...