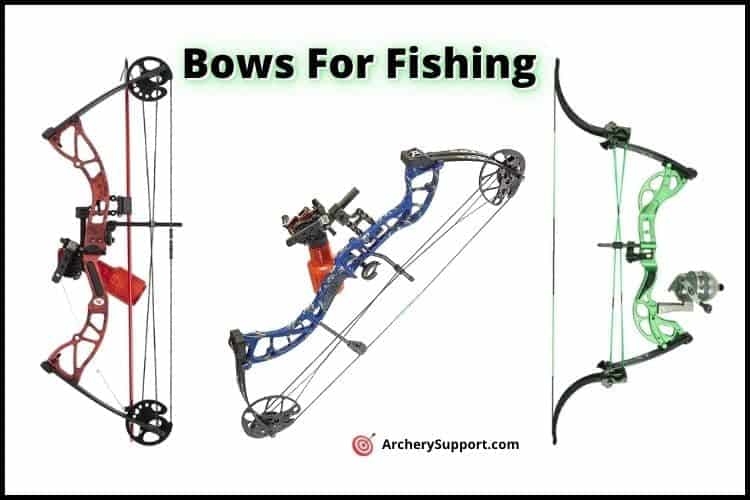 With the incredible line of fine tuned and ease of use bows available, what is the best bowfishing bow? Bowfishing is for everyone and is adding amazing fun and challenge to outdoor sports.
In this article lets see what's the best bowfishing bow for you. There are 4 types you can choose from. They are compound bows, lever bows, recurve bows, and crossbows. If you've landed here and are looking for a more in-depth look at crossbows for bowfishing, read this article on crossbows for bowfishing.
Bowfishing is one of the fastest-growing sports in the US alone. More people are becoming engaged in the sport because of the exciting pace, fun, adrenaline rush, and camaraderie that it has become associated with.
If you're not bowfishing now, you will definitely want to get started after reading this article.
How to Choose the Best Bowfishing Bow
Probably the most important part of choosing a bow is the ability to pull it back comfortably with steadiness and smoothness. The other issue is how well the reel works to get your fish in successfully. You can use a bottle reel or a standard spin-cast reel.
You want a bow that fits well in your hand so your grip won't fail and you will need a bow that doesn't wear you out in the first hour of fishing. Bows and their equipment vary in price but spend at least $150 in order to get something with good enough quality to ensure safety while out there having fun.
Make sure you dial the bow in by doing some target practicing with a standard field arrow with close to the same weight as your bowfishing arrow. If you don't have a way to use a field arrow to dial your sights in, then go out to the water and take an empty bottle tied with a string to a rock as an anchor, and throw it out about 10-20 yards.
Practice with this as your target using your standard bowfishing arrow. Of course this will scare most fish away so do it in an area you won't be fishing or on a day you are there only to dial in your bow.
Types Of Bowfishing Bows
There are four types of bows you can use for bow fishing and they are compound, recurve, lever, and crossbows.
First off, I would stay away from recurve because of their longer size and unless experienced with a recurve or sometimes called long bow, just go with a good compound or lever bow for now.
Lets cover cross bows real quick. The key thing to look at when using one for bowfishing is the inability to get another shot in quickly. They work great but use bolts instead of arrows. That's really no problem other than needing to purchase them. It takes some time to arm a crossbow. You will find crossbows can be adapted to work in bowfishing, but with a slow rate of fire they're not particularly popular.
For more about using crossbows for bowfishing check out this in-depth article on crossbow use for bowfishing.
Compound Bows For Bowfishing
These are the best option, although they might be a bit intimidating in their look, and the pulleys can get tall grass and weeds wrapped in them if not careful. Compound bows for bowfishing also may feel more complex with their design of wheels and pulley system than a recurve or lever bow. This design of mechanical elements aids the bow fisher by making it easier to draw than recurves. It helps the bowfisher and any archer achieve premier power while spending less energy on the draw.
Their design also enables a smooth, efficient, and steady draw and aim. Holding the drawn position, for almost as long as you like without fatigue or shakes setting in, is pretty easy with a compound bow.
If you want to get your family or younger archers involved, know they're very popular with younger archers too and we can use them in the woods for game hunting.
Compound bows are highly customizable, and you can adjust the bow to suit you and your bowfishing buddies needs. Fine-tuning on a compound bow can be make it a near-perfect set up, and you can put the tip of an arrow on a dime from 20 yards.
Most compound bows these days allow draw weight adjustment without using a bowpress. One downside of a compound bow for bowfishing however, is unlike the other bows we mention here you need a bowpress to change strings and perform major maintenance.
Lever Bows For Bowfishing
A lever bow is a combination between a compound and recurve bow. They are popular among bowfishers and are easy to use and maintain.
Why use a lever bow? Because they are very smooth shooting and you can easily take the bow apart and work on it on the boat without a bow press of any kind. Plus, they are sexy.
Lever bows use a lever system on their limbs in order to generate their power. These bows have a smooth draw and can be quick and easy to draw like a recurve. It also has a breakpoint or let-off, like a compound bow, so you are not holding the entire weight of the draw after pulling back.
Like all bowfishing bows, lever bows have their own set of advantages and disadvantages. They can be heavy but offer a very comfortable draw. They are also slower than other bows like the compound, but quick to shoot like a recurve. Set at a 40 lb draw weight a typical lever bow will give an arrow speed of 150-160 fps which is plenty fast enough for bowfishing.
Most people don't use a release with the lever bow, which is an advantage. The ability to use fingers only allows for a quicker shot in most cases. You can use your fingers only on a compound bow also as long as the draw weight is low enough not to bruise and injure your fingers. Keep reading as we will talk about how to protect your fingers shortly.
Experimenting with each type of bow is a good option to see what types you may like, and which ones you may personally dislike. Check out some of your local archery shops and clubs.
Bowfishing Draw Weight
Draw weight is important for field archery but not so much in bowfishing. Many bowfishers use a 40-50 lb draw weight. This usually gives plenty of arrow speed for bowfishing. This draw weight range allows for hundreds of shots without major fatigue and also makes it much easier on the fingers throughout the day or night.
I've found most bowfishers prefer not to use a release because it can take longer to get the arrow off, plus it's just another piece of gear to keep up with and manage while you're out on the water. Using a finger tab or archer tab is a splendid choice to protect your fingers from bruising and rash.
An archer's finger tab is a small leather or synthetic patch that protects an archer's fingers from the bowstring. It is strapped or attached to an archer's hand. During the warm times of the year, finger tabs are far more comfortable than gloves, and allow for more convenience. Finger tabs for archery also use thicker material protecting the fingers. Of course a good archers glove can be used as well.
You need to choose a bow that you're going to be comfortable holding. Obviously, the added weight of reel, line, and heavier arrows than those we use in the woods will make a minor difference.
The most important part of bowfishing is the ability to comfortably pull the bow back. This is where compound bows and lever bows can be more forgiving. Again, as stated above, compound bows are ideal for younger shooters and beginners.
One thing people don't realize is in bowfishing with a compound bow they can set the draw weight at 40 lbs and you will be just as successful is if it's set at 70 lbs. Sometimes the higher weight setup makes the arrow go completely through a fish, causing the arrow to stick in the waterbed's bottom or wedge between rocks of the river or in thick mud in shallows you are fishing.
Also with the lower weight setup most people can fish most of the day without major fatigue. Why wear yourself out if there's no need to, right?
Figuring out the correct draw weight for yourself is an important part of choosing the right bow. Check out the video below on bowfishing draw weights for more information.
The Right Draw Weight For Bowfishing
There are plenty of accessory options with compound bows which are usually the preferred choice for beginners and tournament bowfishers alike.
Bowfishing Reels
This article is mainly about bows but lets quickly cover this topic briefly. Here's an in-depth resource on bowfishing reels. (LINK to ARTICLE) Like the bows themselves, bowfishing reels are available in three distinct types.
1) Retriever/bottle reels are by far the most popular option when it comes to bowfishing reels. They are easy to identify since the line is bailed into a bottle rather than around a spool.
Drag on the reel can be applied by switching a lever, but many bottle reels don't even need this system for medium to large-sized fish allowing for drag-free shots.
2) Drum reels are the most basic. They're also called "hand" reels for obvious reasons. Upon striking a fish, you need to manually pull the line in by wrapping the line around the drum.
While this might sound problematic, drum reels have an advantage by having no moving parts, require almost zero maintenance, and are very inexpensive to purchase.
3) Spin reels which are very similar to spin cast reels which are popular in traditional fishing are very popular. In bowfishing however, they're mounted on a reel seat at the front of the bow.
When you release the arrow, the reel allows the line to feed out following the arrow's path.
One thing to keep in mind is button-operated spinner reels really should be avoided. They are prone to complications which can occur if you forget to release the line prior to shooting. So, instead of button-operated reels use trigger spin reels with bowfishing.
Keep in mind the type reel you choose for bowfishing will depend on what you feel most comfortable with, what you're fishing for, or even what your first bowfishing set comes with.
Checkout these great bowfishing selections below:
Take a look at the Muzzy LV-X Bowfishing Lever Bow and Kit
The LV-X combines Oneida limb power anchored on a sleek billet-machined aluminum riser from Muzzy. The result is a super-smooth-drawing lever action bow packed with intuitive adjustment features and performance. Giving you the smooth-drawing, natural-pointing precision and power of a camless lever fishing bow. This is a powerful and adjustable lever action bowfishing bow with a full complement of accessories. *Click Image For Current Price.
The Muzzy LV-X combines Muzzy design with Oneida Eagle limb power. Its got a very strong billet-machined aluminum riser with smooth-drawing, natural-pointing precision and power. Fire arrows up to 320 fps. Draw length adjustment from 25″-29″. Draw weight adjustment from 25-50 lbs. Adjustable let off of 0% or 60%
A bowfishing bow for everyone is the PSE ARCHERY D3 Bowfishing Compound Bow Cajun Package
This great bow has up to 30″ draw range. It includes a Fish Stick Arrow Reel with line that's highly adjustable. Right & left hand models available. The PSE Archery D3 is the bow for every bowfisher. This highly adjustable compound can handle up to a 30" draw length and is designed for snap shooting. The bowfishing bow for everyone is finally here! The PSE D3 bowfishing bow is designed to be ultra-adjustable with a draw length of up to 30" and peak weights of 29" and 40″. *Click Image For Current Price.
The D3 also ships with a locked 50 lb. cam module for snap shooting, making it the ultimate value for anyone who wants to get into the growing sport of bowfishing! Some of the great specifications are a brace height of 6⁵⁄₈". Axle-to-Axle is 30". It has a mass weight of 3.2 Lbs. The draw length range is up to 30". Draw Weights (lbs.): 40. Limb Bolt Turns: 8. CAM: B3. This outstanding bowfishing package includes: One Cajun Winch Pro Bottle Reel with Line, One Snap Shot Rest, and One Fish Stick Arrow with Safety Stop & Safety Slide. The complete ready to fish bowfishing kit!
Checkout this Cajun Bowfishing Sucker Punch Bow Package Ready to Fish (RTF)
This splendid bow is light and perfectly balanced with 50-pound peak draw interchangeable draw modules, adjustable draw length, and 60% draw-specific let off, it provides smooth, easy shooting for as long as it takes to clear the weight of everyday responsibilities from your shoulders. Deep cam grooves prevent derailment while swatting through sedge or banging around the boat bottom, so it's always ready to go and never lets you down. The specialized Sucker Punch looks, feels, and shoots like it was made for you alone, built for times when you answer to yourself. *Click Image For Current Price.
As an added bonus to this article, and to help you get a live feel of one of the most popular bowfishing bows, we've included this great video on the Muzzy LV-X Bowfishing Bow Review And Adjustment
Recent Posts
link to Kayak Bowfishing
Bowfishing from a kayak is fun and exciting, but isn't as stable of a bowfishing platform as if you were in a regular boat. Kayak bowfishing doesn't require you to be standing, yet depending on...
link to How To Sight In A Compound Bow
If you are looking for a quick way for adjusting bow sight pins on a bow, then here is how. Many bow hunting sights use a multi-pin sight design, which has three main adjustments. The adjustment...